Hotel: Couples All-Inclusive Resort 
Location:Sans Souci, Jamaica
Accessibility Score: 8.5/10 – Very Good
Resort Website: https://couples.com/resorts/sans-souci
My wife and I visited Couples Sans Souci with a couple of friends recently. This beautiful beach resort is considered by the Couples corporation as the "Jewel of Jamaica", and along with all of the amenities you would expect from an all-inclusive getaway, also features it's own mineral grotto, mineral spring pool and beautiful piano bar.
Traveler's note: I would not recommend bringing a guide dog to Jamaica as a traveler from the United States. The only information I could find was regarding the UK and Ireland being the only places that can legally bring dogs into the country. I utilized my white cane (I recommend always bringing your cane when you travel) and sighted guide with my travel companions while on this trip. 
All Inclusive Resorts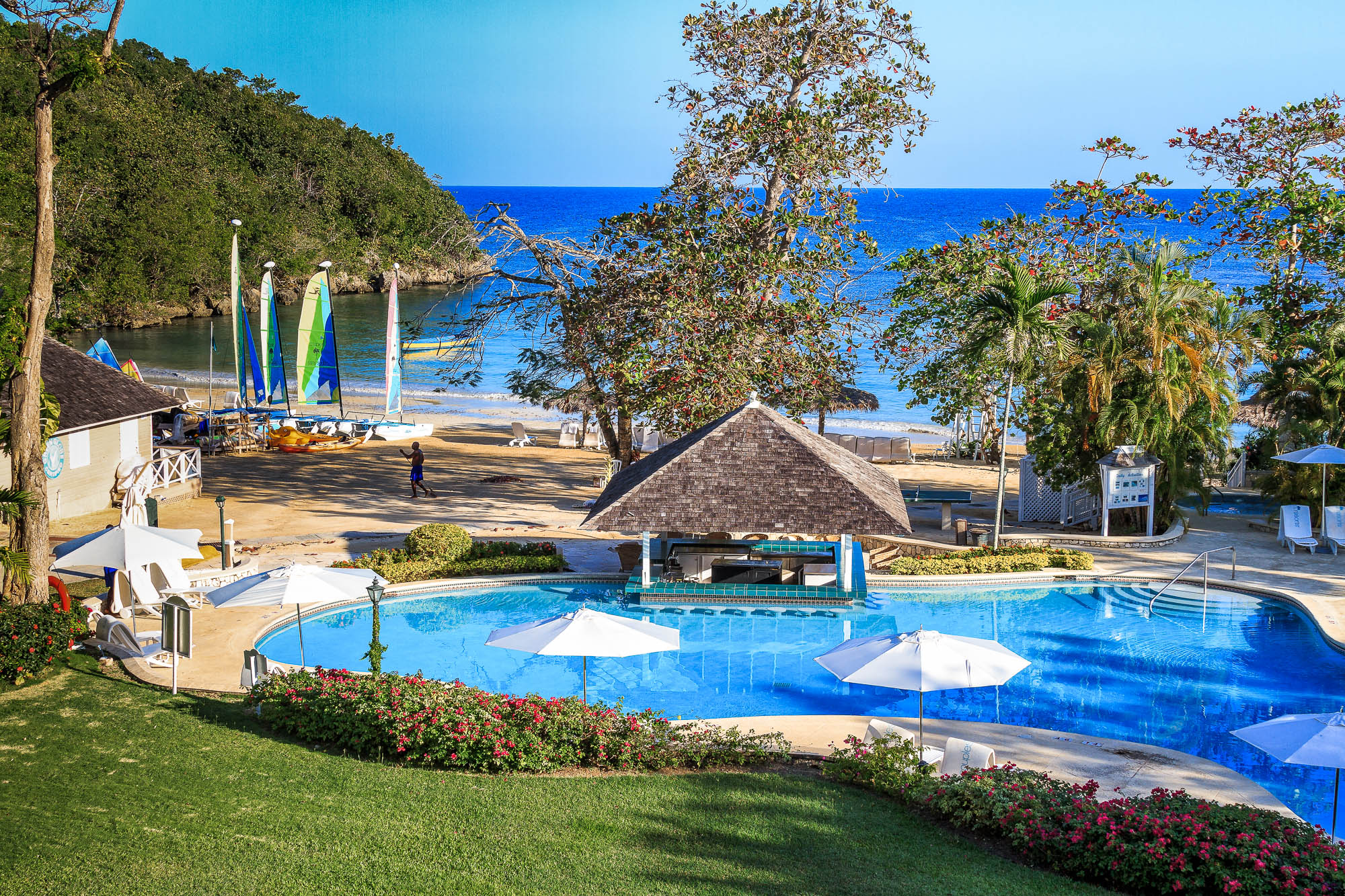 First things first, this is an all-inclusive resort for couples. So, no single guys trolling, and no kids running around. If you have never been to an all-inclusive resort, you are in for a treat – once you get off the plane almost everything related to food, drinks and activities are included in the price of your stay. I generally prefer a no-kids resort for the simple reason that children are tough for me to see. Younger children often walk in front of you and I tend to bump into them unless I am being very careful – that is not to say I don't like kids, I worked at Mattel Toys so I love being around kids, but I am always afraid I am going to step on them. As far as the all-inclusive part of this resort, this is fantastic, because I didn't have to carry my wallet and fumble with money to pay for things (I have a tough time discerning the different denomination bills from each other). Just this fact alone removed a significant stress from the  traveling experience, it is nice to relax and enjoy my stay.
Food and Drink
What is included and what is not? Most of the food and drinks are included in your resort cost – the Palazzina Bistro was excellent for breakfast, lunch and dinner. Pictured above is the Beach Grill which serves a variety of burgers, fried foods and other casual dining fare. There is also the Casanova, a fine dining experience (make sure to bring some nicer clothes, as shorts and flip-flops aren't allowed at the Casanova.). Guests can also find a variety of casual dining options at the Veggie Bar including fresh fruits, and smoothies. In-room dining is also included and if you find yourself exhausted from the day, or you would just like a late night dessert brought to your room, this option was fast, and extremely friendly.
Accessibility for the food fare was a little difficult. The staff was willing to read and suggest items from the menu, but the print on the menu was small and difficult to read especially in the lower light situations of the Casanova restaurant. The breakfast and lunch buffet in the Palazzina was also a difficult reading situation. The cards on the buffet selections was small and difficult to read. This all being said, once the wait staff was aware that I had a vision problem, they were very courteous and were willing to help and read items at any time they saw me in line – good training on the part of the management! As with any new situation, communication is the key to having a good experience. There were no options for braille or large print menus, this oversight was made up for by the enthusiasm of the staff and their willingness to help.
The food quality was outstanding. Whether you were into the fine dining of the Casanova, or the relaxed vibe of the casual dining fare, everything was tasty and prepared very well. It was great to try new dishes, and the cooking class activity, where they taught you a couple local dishes was a nice touch. Drinks were all top shelf, name brand quality. It would be easy to expect bottom shelf liquors, but Couples bars were all stocked with a good variety and quality of liquors. 
If you would like to splurge, for an extra cost, the staff will create a special dinner on the beach for you and your guest. We didn't partake in this service, but we did see many couples who did and (according to my friends) the spread the staff put together looked amazing. There is an additional $200 per couple charge, and this may be a perfect special occasion dinner experience. 
Navigating the resort
Navigating the grounds of Couples Sans Souci was easy. The resort is generally flat and is mostly devoid of stairs with the exception of the ones leading to the upper floors in the buildings with the rooms. Most of the walkways are very well illuminated as pictured above. Common areas such as reception were well lit and easy to navigate, and the dining areas were well lit with the exception of the Casanova restaurant – a fine dining establishment such as this has lower light levels as to provide a romantic atmosphere as you would expect. The disco was also as difficult to traverse as expected with flashing lights and generally lower light levels. The Palazzia Bistro and the Beach Grill were the easiest as they have large open windows (or in the case of the Beach Grill no windows) which let in a lot of light.
There are a few things that are "hotbuttons" for me as a visually impaired person/traveler, and the biggest one is clearly marked restrooms. The fact that restrooms, especially in restaurants are usually located in dark hallways gives me a special kind of anxiety when traveling to new places. Overall the restroom accommodations at Couples Sans Souci are similar to many other resorts/hotels/restaurants in that they are difficult to find, poorly marked and typically located in dark areas. This is a common nuisance, but just because it is common everywhere doesn't make it right. Like so many other reviews here on Blind Travels, I have to ding Couples Sans Souci for their lack of clearly marked restroom facilities throughout the resort. 
The Beach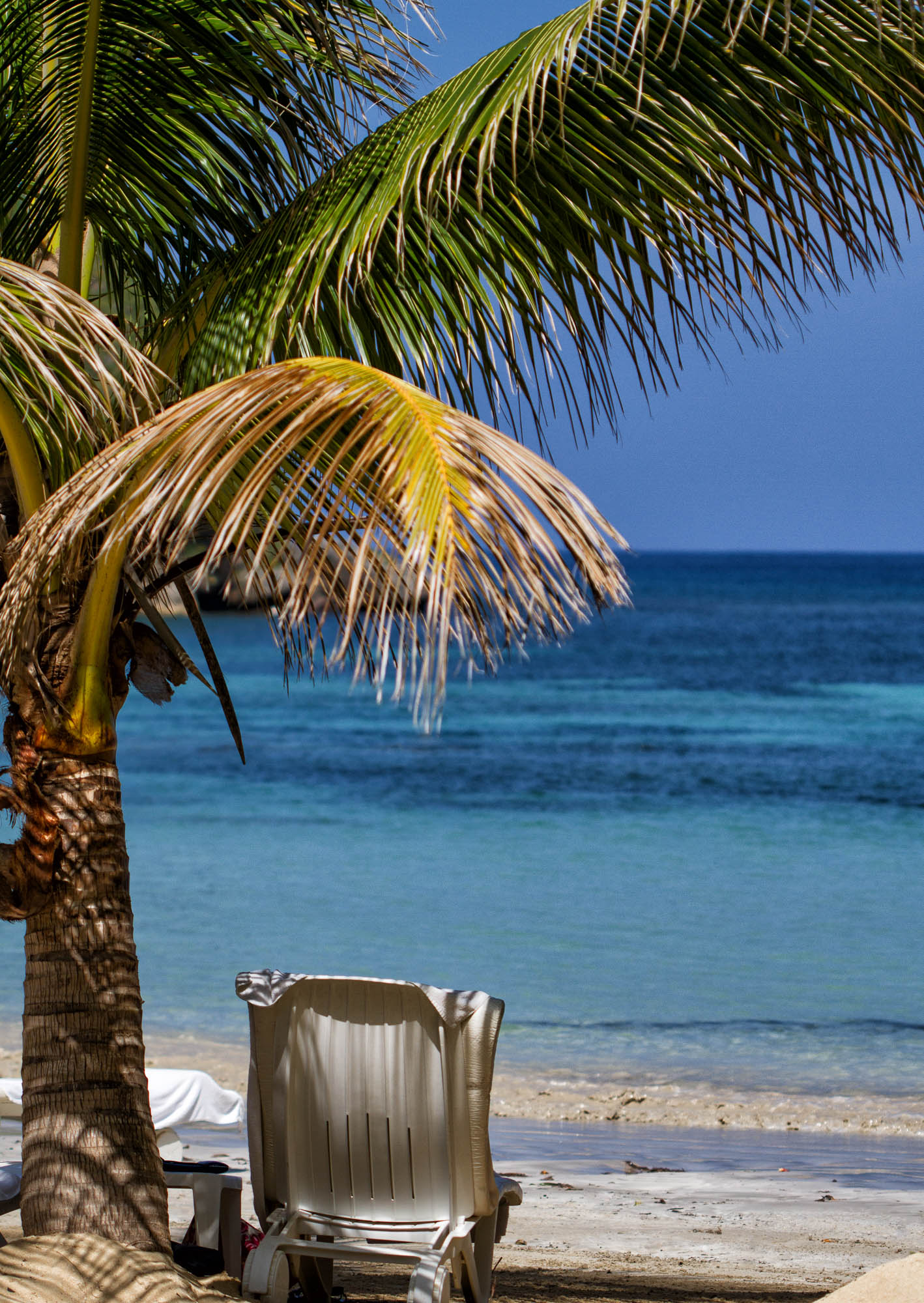 The most important thing about a beach resort is of course the beach, The beach is a very short walk across a grassy area from all the rooms, and easy to find. The only tough part about the beach is the height of the back of the chairs. Many times, I found myself having to walk down the beach at the waters edge to find an open chair because there were older/shorter guests in many of the beach chairs. It was of course awkward to walk up to each chair individually to see if there was an occupant. The first time I went to visit the beach, a staff member quickly appeared with a towel for me and offered to get me a drink – nice touch. Again, once the beach staff learned I was visually impaired, they were more than accommodating – helping me find a chair that was unoccupied each time I ventured down to the beach. I especially liked the area next to the Beach Grill, as it was clear and easy to get up the ramp to grab a drink or a snack.  
If you aren't into sitting on the beach (or if it is too hot and you're looking for some shady relaxation) there are a ton of great little out-of-the-way  places to sit and relax, from the hammocks spread through the grounds to a shady little table with a beautiful view of the water, there are a ton of places to sit and have a romantic moment. 
The Pool Bar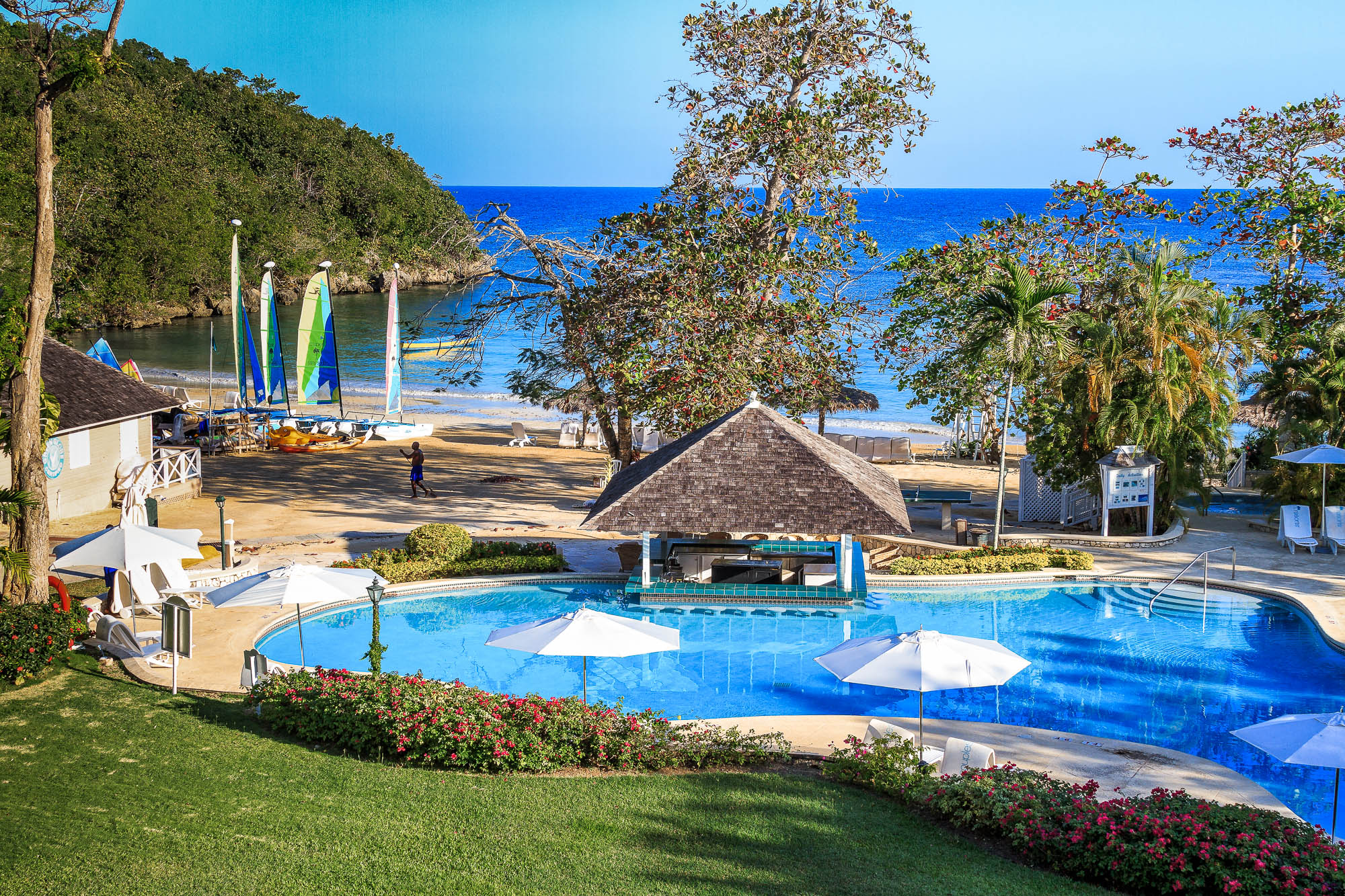 The main pool features a swim-up pool bar, with fantastic drinks and a (I am told) great view of the beach. The stairs for the pool are located on the edge of the pool farthest from the pool bar. The stairs weren't very clearly marked, but the large handrail was a dead giveaway. Just below the water level are a row of seats all along the front and sides of the bar (watch your toes) There was only one row, so it was easy to navigate and determine if a seat was available. The pool bar staff was incredibly friendly and I spent most of my time there. They had a few drink specials posted, but once the bartender learned I was visually impaired they were incredibly friendly and accommodating. If you don't know what you want to drink, they will happily spend time with you to find something you like. Their knowledge of dealing with visually impaired guests was great, even announcing when they brought a drink refill and letting me know that it was placed directly in front of me, great job!
Activities
The activities are an area I think most guests don't venture into when staying at an all-inclusive resort like this. They are all included, why not try something new? The activity staff was more than willing to work with someone who was visually impaired, offering to teach me to sail, ski and scuba dive. I have been dive certified for many years, so my friend and I partook in the diving activity. He was not dive certified, so we took the resort course which was taught in the pool right after breakfast. I informed the instructor of my visual impairment, and he was not one bit hesitant to teach me (I was certified of course but took the course as a refresher with my friend.) This was yet another situation where the staff at Couples was willing to bend over backward for guests with disabilities – very refreshing.
Each evening, the activities staff have events planned, from beach Luau-type feasts to musical guests and variety shows – don't head to bed too early and miss the nightly entertainment. During the day, guests can take part in exercise-related activities like water aerobics, or yoga on the beach. There are also fun events like bingo and even dance classes, where you can learn the wobble or electric slide – to show off at the disco. The activities calendar was not available in large print or braille, but the activities staff was more than willing to help find appropriate activities to participate in.   
Gallery
Visiting Couples Sans Souci as a visually impaired guest was a fantastic experience. The resort is easy to navigate, and the staff work overtime to make everyone – with and without a disability comfortable. In any new situation, communication is key, if people don't know you have a problem they can't help you. Each time I encountered a new staff member at the beginning of our stay, I let them know in passing that I had a vision problem, and they did a great job of remembering this throughout my stay at the resort. This September, we are traveling to Couples Tower Isle and I will update this article with links to that review. Great job Couples, if you had large print and braille menus, and clearer marked restrooms you would have hit it out of the park for your visually impaired guests. 
In closing this review, I would like to take a moment to shout out to the gentleman staff member (I didn't catch your name – sorry!) that chased me down during my exercise/walk in the 100+ temperature heat to bring me a bottle of water. He was full of sweat, and he took the time to do something that no other staff member at any resort I have been to has done. It wasn't because I was visually impaired, it was just because it was hot and he was awesome.